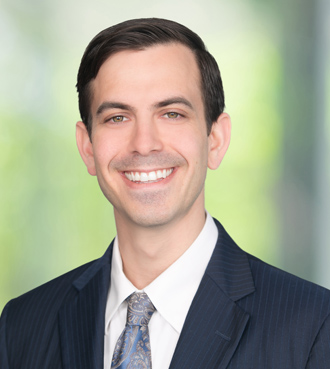 Bar Admissions
California, 2015
---
Education
Thomas Jefferson School of Law, San Diego, California
J.D., Cum Laude
Honors: Property Law and Torts
California Polytechnic State University at San Luis Obispo
Major: Political Science
Joshua L. Fabian is an Attorney in the Family Law Division at Boyd Law. Mr. Fabian's practice at Boyd Law focuses exclusively on family law matters, including dissolution, legal separation, and parentage proceedings, child custody and visitation long cause hearings, property division including experience with forensic evaluations, orders for and post judgment modifications of child support, spousal support, and attorney's fees and costs, establishment of parental relationships, review of marital settlement agreements and contempt proceedings.
As a lifelong San Diego resident, Mr. Fabian has had the pleasure of working with all kinds of clientele including but not limited to high-net-worth individuals, "out-spouses," members of the armed services at home and abroad, teachers, government employees, and investors. Mr. Fabian is also a proud member of the State Bar of California, the San Diego County Bar Association.
Mr. Fabian attended Thomas Jefferson School of Law after graduating from Cal Poly in his formative years where he wrote a thesis about mental illness in tort law, argued in Mock Trial, and taught Property Law to his peers and colleagues culminating in passing the bar on the first attempt.
Prior to joining Boyd Law, Mr. Fabian was the senior managing attorney at a regional firm with matters all across San Diego, Orange County, Riverside, San Bernardino, and Los Angeles Counties. Before becoming a Family Law Attorney, Mr. Fabian argued and won in the trenches of insurance and property torts and subrogation, admiralty and contract claims, and constitutional law.
Mr. Fabian's vigorous advocacy and attention to detail were crucial in his successful representation of clients. More importantly, Mr. Fabian's skillset as a civil negotiator allows him to tackle family law disputes in an efficient, organized, and cost-effective manner.